INTRODUCTION
Shanxi Agricultural University in Taigu was founded in 1907. It is a multi-disciplinary comprehensive university under the Education Commission of Shanxi Province. It is one of the key universities of the country. The university campus, covering an area of 1,442,000 sq. Meters, is 50 kilometers from Taiyuan. The campus, with a total floor space of over 438,000 sq. meters, are cradled in a lovely landscape with ancient buildings, tall trees and flowers. It is renowned for her "garden campus."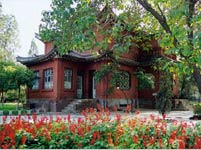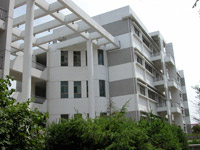 Shanxi Agricultural University comprises 14 colleges and departments, offering 36 specialties. They include the College of Agriculture, the College of Forestry, the College of Animal Science and Technology, the College of Resources and Environment, the College of Horticulture, the College of Engineering, the College of Economics and Trade , the College of Food Engineering, the College of Art and Science, the College of Adult Education and Vocational Teaching, the College of Modern Technology Education, the College of Public Management and the Department of Physical Education. et.al. There are 9 specialties entitled to confer Doctor's degrees, 30 Master's, 36 Bachelor's programs. In addition, the University has 10 key specialties of Shanxi Province, 90 laboratories and 10 product bases. The library building, with a total floor space of 34,000 sq. meter, has a collection of over 1,450,000 volumes, and subscribes to over 15,000 kinds of periodicals.
Shanxi Agricultural University has a teaching staff of 1,498, with 133 professors, 177 associate professors, 78 with doctorates. Its students include 10,322 undergraduates, 727 postgraduates, 57 Ph.D.Students.
The university emphasizes the undergraduate education and the students must qualify for the credit system before they graduate.
The university participates actively in academic exchanges and establishes academic relations with universities and research institutions in the U.S, Germany, Japan, Australia and Britain. Noteably the university has enforced the traditional friendship and academic exchange with Oberlin College of the US.
The Chinese Training Center of the university has modern teaching facilities and a special audio-visual classroom. The center offers a cheap and well-facilitated dormitory for short-term and long-term foreign students. The university has a good environment for Chinese learning.
The university is 1 kilometer away from the Taigu Bus Station and Railway Station. It takes 5 hours from Taigu to get to Beijing or Xi'an by bus. There are 10-shuttle trains toward Beijing and Xi'an separately everyday. Bus services from the campus to Taiyuan are available every morning and afternoon. Pingyao, the World Culture Heritage site, is only 20 kilometers from the campus. It only takes 5 hours' trip to another World culture Heritage site, Datong. The trips to many interesting places, e.g. Wutai Mountain, Jin Temple and Qiao Mansion, are extremly convenient.
We eagerly hope to exchange extensively with foreign students and re-enforce the friendship with the other nations.